PL Reader: Hello, April. I'm a Filipina with tan (brown) skin. What can you tell me about eyebrow filling/shading? I've tried to shade in my eyebrows before using a pencil, but it looked silly to me!
April: Try to match your brow color specifically to the hair on your head, but go a shade slightly lighter.  Also, watch out for your technique —  sometimes we tend to try to draw a line with eyebrow pencils, which can look harsh.For the most natural look, use soft hairline strokes with an eyebrow pencil in between your eye brow hairs for a softer appearance.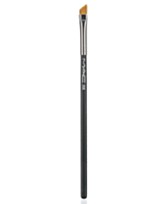 Also,  another alternative is to use an eyeshadow colors close to you hair color with a slanted brush, like MAC's 266 brush, to fill in and shape your brows. For example  I use Embark eye shadow from MAC for my brows, which sounds like it would be a good color for you to try as well. Another color suggestion is MAC's Mystery eye shadow.