By Sheila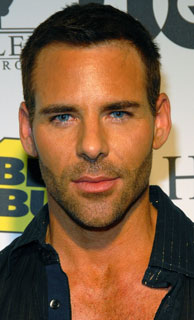 He is the man responsible for making women put down their plum lipsticks in the early 2000's and run en masse to their local MAC counters to demand J. Lo lips. "Stripdown and C-thru!" my MAC friends would exclaim.
It was that combination of lipliner and lipgloss that would  give a woman the opportunity to look as fantastic as Scott Barnes made his most famous subject appear.
 I've loved Scott and his work for many years, so you can imagine how thrilled I was when he agreed to answer some of our questions. He's amazing, and he's sharing his talents with the world in his new book, About Face, which is the first makeup book to make my lower jaw drop to the ground in awe since the first time I discovered Kevyn Aucoin.
If you love makeup, if you love glamour, if you love the power of truly transformative makeup, you NEED to have About Face in your collection. Read his words in the intro about Queen Esther and heed them well – Scott is a wise man and I'm so glad that About Face is available to all the beauty junkies of the world. If you want to find out more about Scott, visit his website, www.scottbarnes.com.
Now … on to the questions!
Painted Ladies:  First and foremost, I want you to know that I am personally a huge fan and love your work. Where do you get your makeup inspiration from?
Scott Barnes: Black and white films. Film noir because it's fast-paced and aggressive – high gloss looks.
Painted Ladies: For women who are in a makeup rut and looking to glam up a bit, do you have some suggestions as to how they can change things up?
Scott: If you're in a rut and want to do something new – just go out and try something crazy! It washes off! Don't be afraid! If you usually use a neutral palette, switch it up and try a smoky one. 
Painted Ladies: Some of our readers have said that highlighting/contouring is intimidating. Do you have any easy tricks to make it a little less scary?
Scott: Work with light (highlighters) – it's much more fool proof than dark. There is a chapter on contouring in About Face that takes it steps by step.
Painted Ladies: I noticed that you're a fan of the Maybelline eye pencils. Do you have any other drugstore favorites?
Scott: Covergirl mascara and Oil of Olay has a great moisturizer.
Painted Ladies: For those who are thinking about pursuing a career as a makeup artist, do you have any words of advice? 
Scott : Don't go to beauty school (I went to art school)! Figure out what it is that you do best and be yourself – sometimes what you like is not always in fashion. My signature glow was ridiculed during the grunge, but I stayed with soft and pretty makeup and now it's back!
Painted Ladies: Will you be relaunching your full makeup line?
Scott: Yes, details to come!!